Description
Used by over 120 million people worldwide, enjoy flawless security that works quietly, integrates effortlessly, and updates automatically on all your devices.
Defend your PC and Windows. Stop all threats with Mcafee Antivirus Plus !
You receive an activation code by email and SMS FAST
Code to simply activate in your McAfee account
No automatic CB renewal!
For 1 PC
McAfee Support Included FREE !
Robust online virus protection
Device optimization
Personal firewall
---
Personal firewall
Custom protection Customize the level of protection to suit your needs.
Network Access Control
Monitor the information that flows between devices on your network.
Sophisticated filters
Block suspicious incoming Internet traffic and programs that try to steal your data.
Block malicious applications
Block malicious applications that try to send your personal data over the Internet.
---
Blocking malicious ads and sites
Websites do not always control the advertisements they display. Sometimes a dangerous advertisement is displayed on a site that you know well and visit daily. For your security, McAfee automatically blocks potentially malicious ads.
---
Protect your mobile
Backup, restore and erase
Backup, restore or erase your personal information remotely from a lost mobile phone.
Locate your cell phone
Locate and lock your lost cell phone using your centralized McAfee account.
SOS
Get an emergency location update from your lost phone when its battery is low.
CaptureCam
Receive the location of your stolen phone in your account, with a photo of the thief.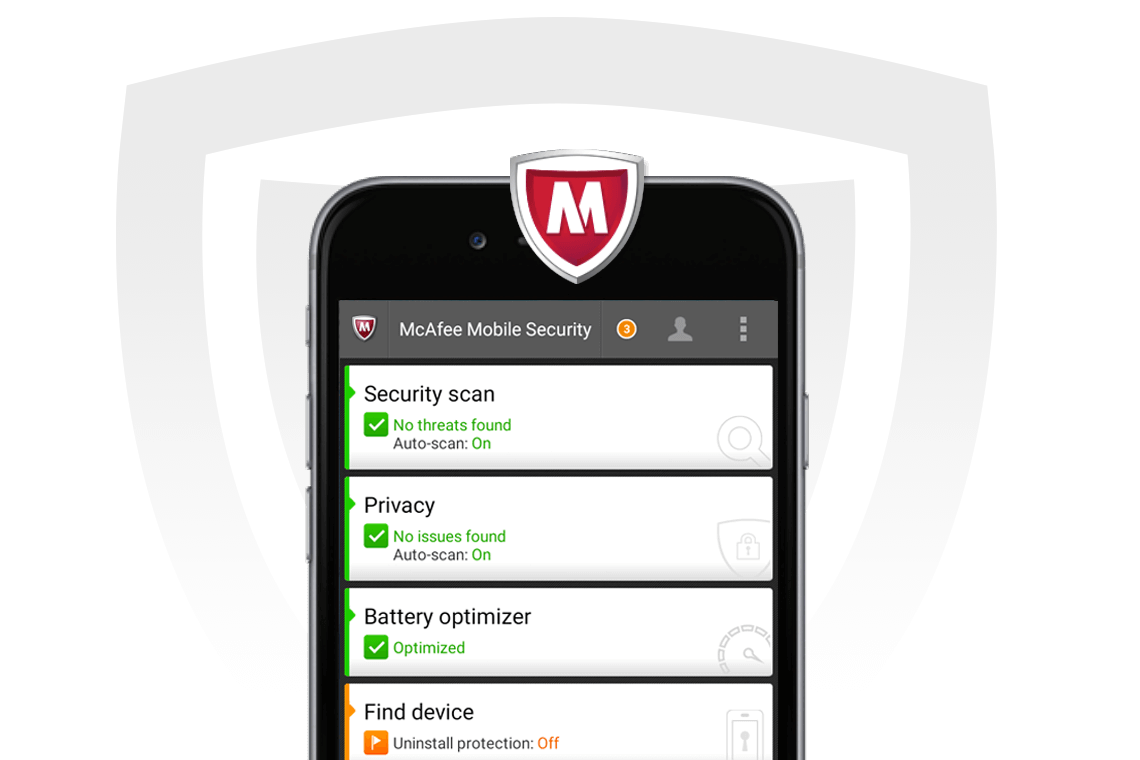 ---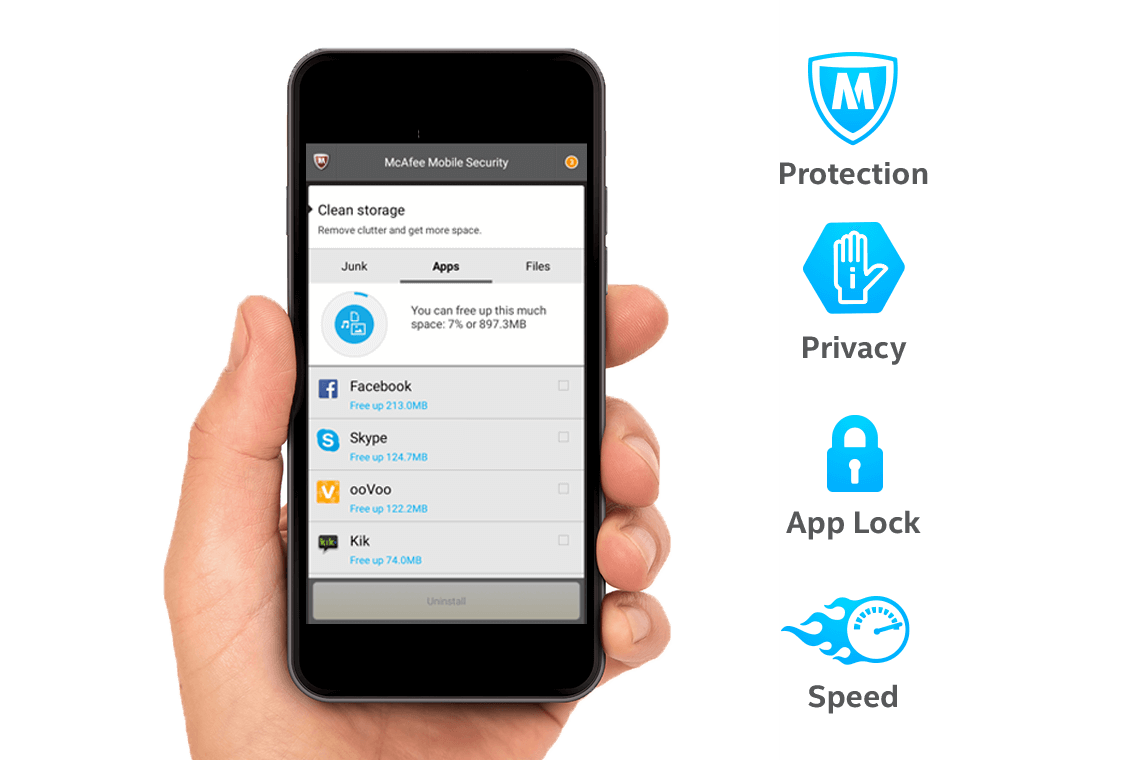 Mobile application protection
Protection against malicious applications
Prevent illegal installation of malicious applications on your mobile phone.
Protecting application privacy
Controls the personal data and device functions that an application can access and modify.
Application
lock Lock your applications with PIN codes to restrict access to third parties using your device.
Memory Cleanup
Close unwanted background apps to free up memory, improve speed, and save power.
---
Faster and easier
Speed
Reward 2015 Speed Rewards – highest rating.
New simple
interface Intuitive interface optimized by device, giving you instant access to all security functions.
Custom Planning
Schedule regular scans for your devices and their disks and folders.
Faster
scans Scan apps and files in 60 seconds and make sure your PC is protected.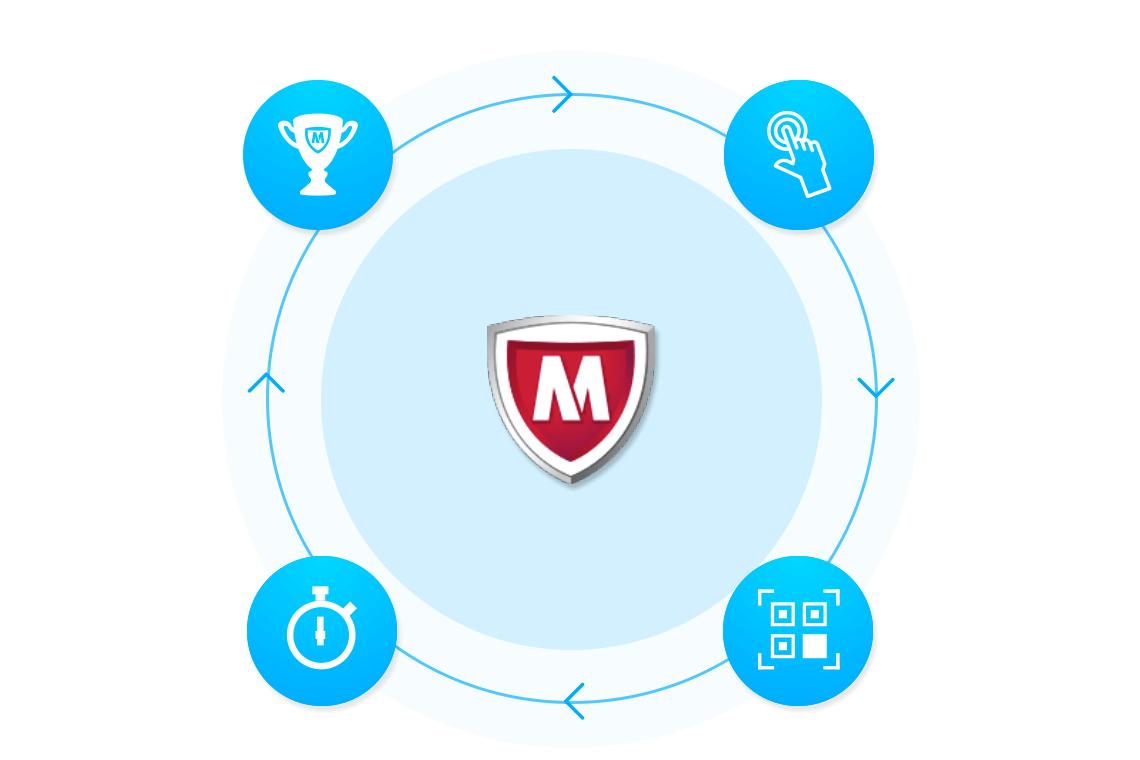 Operating system
Microsoft Windows 10, 8.1, 8 and 7 (32 and 64 bit), Mac OS X 10.11 or later, Smartphones and tablets Google Android 4.1 or later, Apple iOS 9 or later
Supported browsers
Internet Explorer 10.0 or later, Firefox, Google Chrome, Safari (Mac OS and iOS only)
Internet connection required
Broadband connection recommended
Hardware
2 GB RAM for Windows 7 and above
500 MB available hard disk space
1 GHz processor